Best Massage Business Class Zero Gravity Massage Chair
---
Features:
2D "SL" Smart Chair Technology
8 Automatic Massage Programs
LED Blue Light Therapy
Bluetooth Speakers
Negative Oxygen Ion Generator
Product Details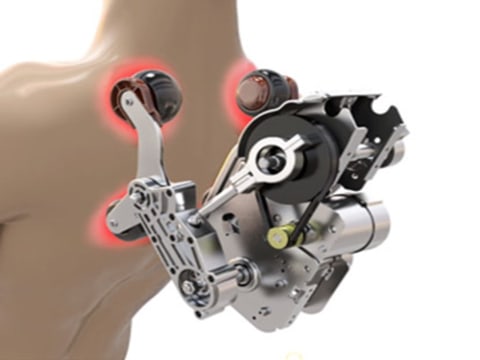 2D Mechanical Hands
The industries best 2D mechanical hand technology is installed in the Business Class Massage Chair and designed for years of use to provide the industries best massage.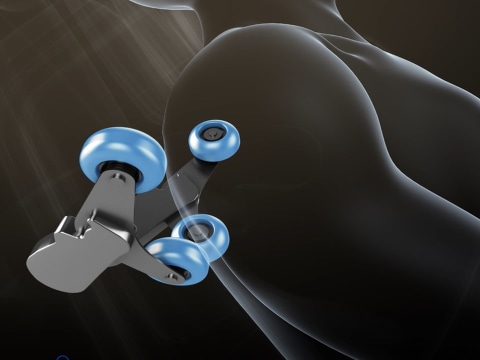 Smart Chair Technology
Before your massage begins the computer body scan will detect the size of the user and adjusts the massage accordingly with intelligent mechanical massage rollers.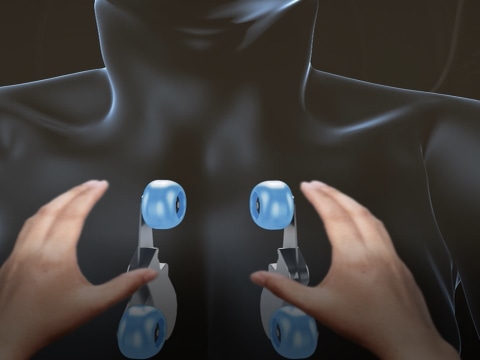 Feel of a Human Hand
The 2D Mechanical Hands simulates the feel of the human hand and performs 5 massage techniques: Kneading, Tapping, Knocking, Shiatsu, Kneading and Tapping.
28 Compression Airbags
The Business Class Massage Chair is equipped with 28 compression airbags located throughout the massage chair. The airbags offer a complete full body massage experience. Airbags are located at the shoulders, arms, hand, legs, and feet. Compression massage helps to improve blood circulation and relieve pain and tension.
Airbag Settings
The airbags have 3 intensity settings, (soft, medium, and firm). The airbags can be controlled by location to turn on/off as desired. For example if you do not want the arm airbags on, simply turn off the arm massage.
53" SL Massage Track
The super long 53" SL design massage track mimics the curvature of the human spine allowing the 2D mechanical rollers to massage the full body from the neck, down the back, to the hips and hamstrings.
Negative Oxygen Ion Generator
Negative ions clean the air. Cleaner air reduces respiratory problems. Negative ions help make our bodies feel more energetic and the increase in energy helps improve productivity making for better mental concentration and performance. *Studies have shown those who are exposed to higher levels of negative ions perform better on tests than those who aren't because negative ions promote oxygen flow to the brain.
*Image for reference only - red color is not available.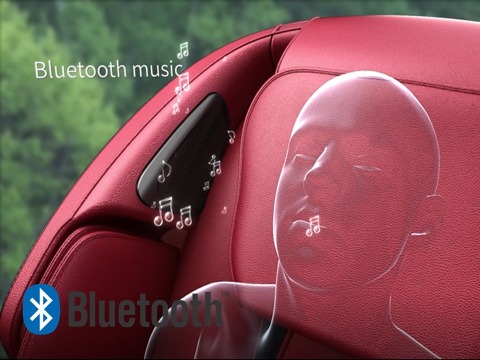 Digital 3D Bluetooth Speakers
The Best Massage Serenity 2D Zero Gravity Massage chair is equipped with digital 3D Bluetooth speakers. Simply connect the Bluetooth speakers to your phone and play your favorite music while getting a massage.
*Image for reference only - red color is not available.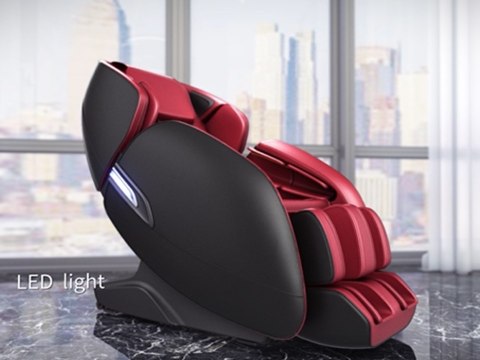 Blue Light Therapy
Blue Light Therapy has been shown to relieve stress and creates a calming effect on the brain simulating a relaxing and tranquil sensation.
*Image for reference only - red color is not available.
Carbon Fiber Heat Therapy
1The Best Massage Business Class Massage Chair is equipped with carbon fiber heat therapy located on the back. Heat therapy enhances the effect of the massage by warming up the muscles and allowing for increased blood flow. The chair will heat up between 104 degrees and 120 degrees.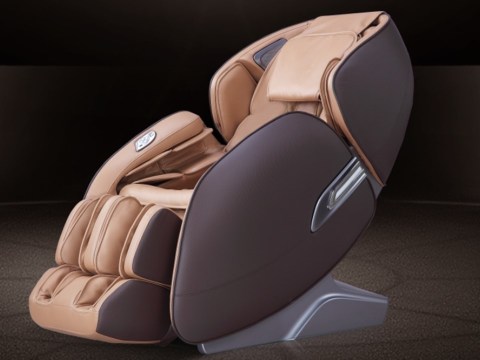 Adjustable Settings
The chair is equipped with 8 preprogrammed massage modes or switch to manual Mode and get the massage that is customized for you. The Best Massage Business Class Massage Chair has 3 Massage Speed Settings (soft, medium, firm). There are 3 massage width settings (narrow, medium, wide) along with 3 airbag intensity settings, (soft, medium, firm)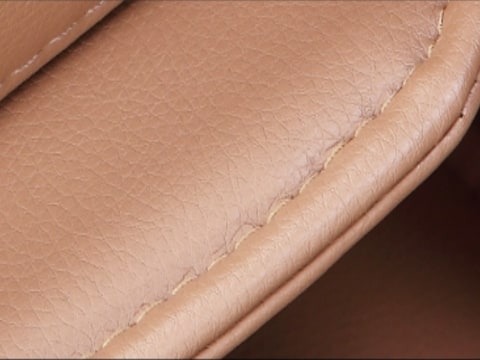 Premium PU Leather
Premium PU leather is similar to natural leather performance with exceptional wear resistance. A 200,000 rub test helps insure exceptional wear and color fastness along with crack resistance.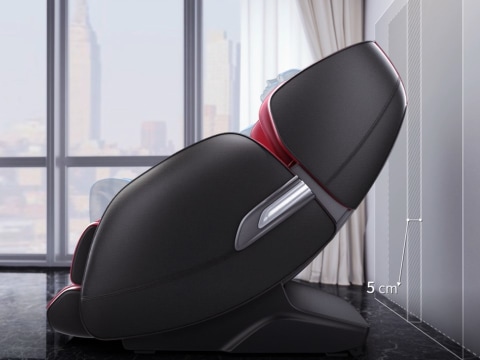 Space Saving "Zero Wall" Design
The Business Class Massage Chair can be placed within 2" from a wall and fully recline. The touch of a single button will smoothly recline your chair to within 2" from the wall. Utilizing less space than a traditional massage chairs.
Zero Gravity Mode
When activated the chair reclines to 118 degrees elevating the feet above the heart providing the perfect weightless massage and giving the ultimate massage sensation. Zero gravity mode can also be manually adjusted to your desired recline angle.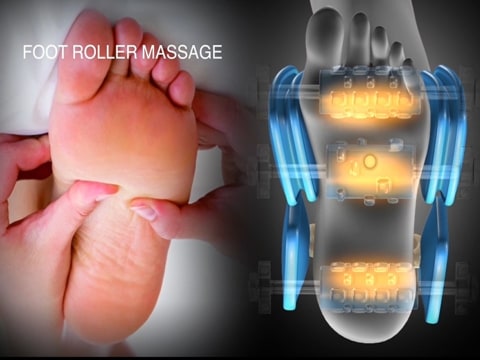 Mechanical Foot Rollers
The mechanical foot rollers along with the compressions airbags located on the feet will provide a soothing and revitalizing foot massage.
Leg Extension
The Business Class Massage Chair has a leg extension of 8.5 " and a weight capacity of 240 lbs to accommodate a user between 5' and 6'3".
Armrest Quick Access Control
A second easy access control panel is located on the armrest giving access to simple chair commands such as power on/off, pause, recline up or down, feet up or down.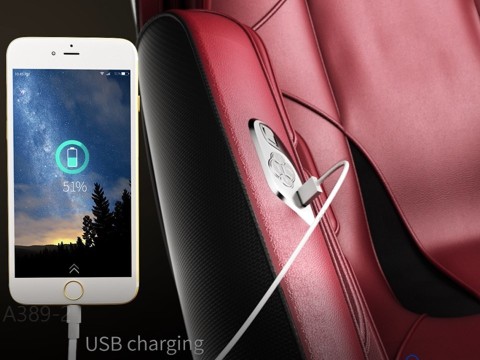 USB Charging Port
A USB charging port is available on the Armrest Control allowing you to charge your mobile devise while getting a massage.
*Image for reference only - red color is not available.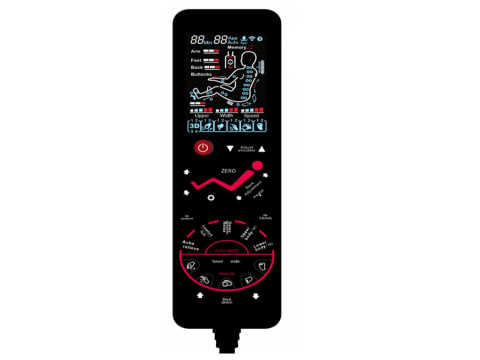 LED Remote Control
The LED remote control is easy to operate and allows you to easily navigate between any of the preprogrammed massage modes or switch to manual mode and adjust any number of, speed, technique, intensity, width, or massage location settings.
Specifications
Chair Features
With Audio Speakers
Dimensions: W x L x H
31.5 in. x 60 in. x 48 in.
Number of Air Massage Levels
3
Number of Massage Styles
8
Number of Preset Auto Programs
8
Number of Zero Gravity Stages
2
size chart
This is an approximate conversion table to help you find your size.
| Italian | Spanish | German | UK | US | Japanese | Chinese | Russian | Korean |
| --- | --- | --- | --- | --- | --- | --- | --- | --- |
| 34 | 30 | 28 | 4 | 00 | 3 | 155/75A | 36 | 44 |
| 36 | 32 | 30 | 6 | 0 | 5 | 155/80A | 38 | 44 |
| 38 | 34 | 32 | 8 | 2 | 7 | 160/84A | 40 | 55 |
| 40 | 36 | 34 | 10 | 4 | 9 | 165/88A | 42 | 55 |
| 42 | 38 | 36 | 12 | 6 | 11 | 170/92A | 44 | 66 |
| 44 | 40 | 38 | 14 | 8 | 13 | 175/96A | 46 | 66 |
| 46 | 42 | 40 | 16 | 10 | 15 | 170/98A | 48 | 77 |
| 48 | 44 | 42 | 18 | 12 | 17 | 170/100B | 50 | 77 |
| 50 | 46 | 44 | 20 | 14 | 19 | 175/100B | 52 | 88 |
| 52 | 48 | 46 | 22 | 16 | 21 | 180/104B | 54 | 88 |