Refresh Skin Therapy Vitamin C Serum, 1.0 fl oz
---
Product Details
Product details have been supplied by the manufacturer and are hosted by a third party.

Best for Sensitive Skin 
A Naturally Refreshing Twist on Skin Health
A glowing complexion can finally be yours! Get brighter, smoother skin with our exclusive anti-aging Vitamin C Serum A powerful antioxidant serum protects skin from signs of premature aging, free radical damage to skin cells, oxidative stress, UV damage, and environmental pollution. How many times do you wish you had started taking care of your skin years ago? Now you can make up time for lost time and help return your skin to a youthful state.
Size: Each bottle is 1 fl oz | 30 ml

LIGHTENS & SMOOTHS SKIN FOR A FLAWLESS COMPLEXION
Vitamin C combined with Ferulic Acid lighten and fade hyper pigmentation caused by acne scars or UV exposure. Vitamin B3 acts as a skin brightener and prevents further darkening of freckles and dark spots.
A Glowing Complexion Can Finally Be Yours!
Our maximum clinical strength antioxidant formula drenches dry, dull skin with a power anti-aging vitamin cocktail. Studies show skin protection benefits to be much more effective when using a combination of both Vitamin E and C, rather than using each Vitamin alone.


CLINICAL STRENGTH 20% VITAMIN C
Vitamin C is known to be the most effective antioxidant on the market, and a few drops per day prevent lines and wrinkles from forming and turn back the clock on previous UV exposure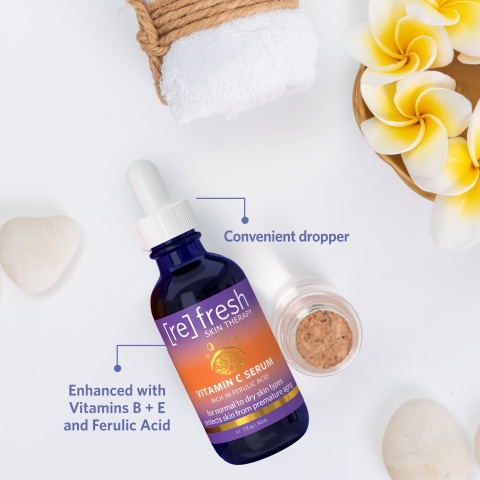 HYALURONIC ACID AND VITAMIN B5, B3
Our facial serum delivers intense hydration for even the driest skin, and penetrates skin deeper than a regular moisturizer. Hyaluronic acid binds up 1,000x's its own weight in water to skin, while Vitamin B rejuvenates and heals dry, damaged skin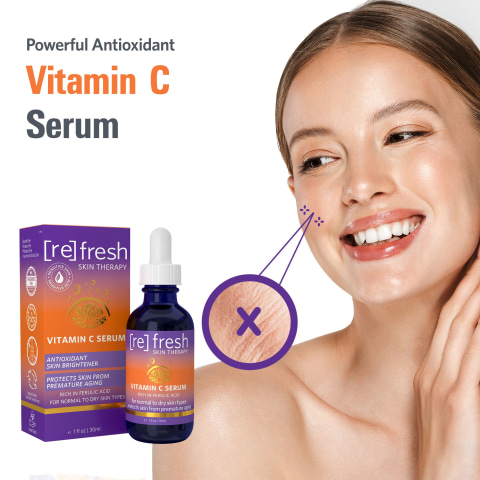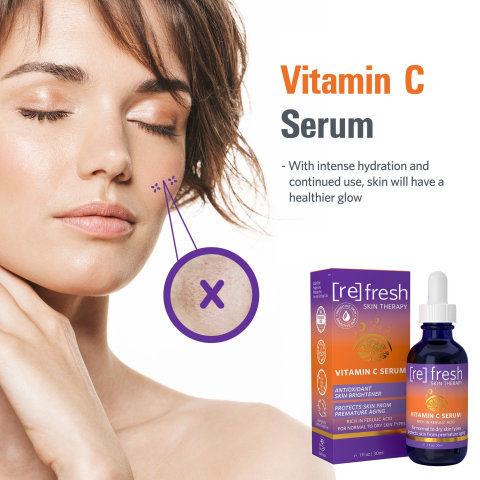 THE BEST ANTIOXIDANT POWER SERUM
Our Powerful Blend of Ferulic Acid, and Vitamins C, B3, B5, and E Combine for a Unique Antioxidant Delivery System to Protect Skin from Premature Aging, Free Radical Damage to Cells, Oxidative Stress, UV Damage, and Environmental Pollution
Regular use will diminish the look of dark spots!
Benefits
20% Vitamin C

 

Brightens and Smooths Skin for a Flawless Complexion
Evens out skin tone and reduces the appearance of dark spots
Rich in

 

Hyaluronic Acid

 

for intense hydration for even the driest skin, penetrating deeper than a regular moisturizer.
Clinical strength

 

antioxidant formula

 

drenches dry, dull skin with a powerful anti-aging vitamin cocktail
Ingredients: Purified Water (Aqua), Ethoxydiglycol, L-Ascorbic Acid (Vitamin C), Butylene Glycol, Glycerin, Laureth-23, Tocopherol (Vitamin E), Ferulic Acid, Panthenol (Vitamin B5), TEA, Hyaluronic Acid, Sodium PCA, Niacinamide (Vitamin B3), Phenoxyethanol.
Size: 1 fl oz / 30 ml
As always, Refresh Skin Therapy's products are: Vegan, Cruelty Free, Free from Parabens, phthalates, added fragrances, colors and GMOs. Alcohol free and Gluten Free. Made in an FDA inspected production facility cGMP.
Pro Tips:
Save the black service cap! You'll need it for traveling. Sometimes the jostling of a bag by an airline, combined with pressure changes, can cause the dropper top to leak.
Apply an extra drop to the back of each hand and massage until absorbed. 
Our Vitamin C Serum Works Deep Down in the Skin 
Combining Vitamin C + Vitamin E and Ferulic Acid is

 

5 times

 

more effective than Vitamin C Alone
Certified Cruelty-Free by Leaping Bunny
Specifications
Brand
Refresh Skin Therapy
size chart
This is an approximate conversion table to help you find your size.
| Italian | Spanish | German | UK | US | Japanese | Chinese | Russian | Korean |
| --- | --- | --- | --- | --- | --- | --- | --- | --- |
| 34 | 30 | 28 | 4 | 00 | 3 | 155/75A | 36 | 44 |
| 36 | 32 | 30 | 6 | 0 | 5 | 155/80A | 38 | 44 |
| 38 | 34 | 32 | 8 | 2 | 7 | 160/84A | 40 | 55 |
| 40 | 36 | 34 | 10 | 4 | 9 | 165/88A | 42 | 55 |
| 42 | 38 | 36 | 12 | 6 | 11 | 170/92A | 44 | 66 |
| 44 | 40 | 38 | 14 | 8 | 13 | 175/96A | 46 | 66 |
| 46 | 42 | 40 | 16 | 10 | 15 | 170/98A | 48 | 77 |
| 48 | 44 | 42 | 18 | 12 | 17 | 170/100B | 50 | 77 |
| 50 | 46 | 44 | 20 | 14 | 19 | 175/100B | 52 | 88 |
| 52 | 48 | 46 | 22 | 16 | 21 | 180/104B | 54 | 88 |